I get asked this a lot…seems paypigs want to know their fate!
"What's going to happen to me, Mistress?"
A. This is what WILL happen (assuming you interact, buy some stuff, read the blog)
I will expose you to My brilliant mind and body
I will use both covert and overt manipulation tactics on you
you will be given instructions, such as "stroke your cock when you pay"
B This is what will PROBABLY happen
you will spend more $$$ then you intended
you will find paying Me to be very arousing and compelling
you will be unable to help yourself and will return to My words and photos again and again
C. This is what MIGHT happen  (about 30% of those in the first group end up here)
you overspend by A LOT, causing you some financial hardship. Some of you (about 1/3 of this group) will liquidate stocks or retirement accounts. Some of you do credit consolidation loans, and then hit your credit limit again on your cards.
you become truly addicted to Me. Many of you won't be able to even get an erection or have an orgasm without paying Me. Some of you will LOVE this. Other's will not love it so much. I take enjoyment out of either situation
You will become a devoted junkie. Sometimes that devotion is simply to feel a normal erection, but some pigs know that they are greatly privileged to serve Me.
Some of you will try to leave. 95% of you won't succeed, and will return within a year. Usually within a month. VERY often within a week.
D. What occasionally happens: (My plan for the fate of paypigs, ultimately!)
you spend every penny you can lay your hand on for Me,
you may go bankrupt
you might lose your home, your spouse/girlfriend because of spending on Me
you might have twice as many bills as income
you really are insolvent, but your addiction remains. You will do anything to keep paying Me. Suck cock, steal from your family, go without eating,
When do pigs usually "get out"?
Some pigs never start…….but of those that do…..
Sometimes after spending EVERYTHING, going bankrupt, and being unable to pay Me for any attention whatsoever…they can leave.  But more often they stroke to My blog (like some are this entry), they cum on their bills. The word "bankruptcy" makes them hard….
Sometimes they piece their financial life back together….
and begin spending on Me again!
Want to tell Me where you fall? Look at the categories above and decide where you fit in best!

Which category are you in?
How much of a paypig are you?--read the entry
and remember, I want ALWAYS to progress you to the next level.
ANNOUNCEMENT:  I was having trouble subscribing new members to blog notifications, so I changed the plug in I use. They have a little different look, and if you've had trouble subscribing in the past…try again.  See the right sidebar on the very top. I'm waiting for your subscription! Subscribers might get goodies in their email box 🙂
Now, let's check the spending report…..after this photo 🙂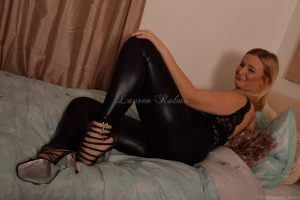 Pay pig alert! Let's start out with My #1 piggie of all time, princess gigi.  This week saw her sending Me another $520, mostly in tributes!
PIG couldn't help himself AGAIN this week. (Addiction), and he spent $201
Another addicted junkie is "more please"  His spending this week was $175.  He has been making Me his Friday Night addiction
My sissy j was back! This time for $135 here on Niteflirt, plus a little spoiling 🙂
Pay pig alert!  My star junkie just couldn't get away. I lured him in with "discounts" And he spent $490 on those discounts.  Hahaha sucker!  So cock hardening though…
and candyballs was back for another $145 in spending. Stop trying to hide candyballs. He's way surpased 1K of spending and he's only been around for less than a month.
Pay pig alert!  Another big spender this week, and back after a break was special k!  We did a HOT long phone call when he clicked and paid emails for Me…so erotic! He spendt $520 Mmmm
My exposure sissy spent $140 while I had fun at his expense!
My nylon slave spent $135 on My hosed feet, but I have a feeling more exploitation is coming SOON.
titfool squeaked in a mention with $101 in spending on My perfect boobs.
Also new to My blog is sissy daphne, who spent $200 on Amazon gift cards for Me. Mmmmmm Good way to start daphne!
If I am successful at manipulating you into giving Me (much) cash, it's because I have successfully managed to install us on the opposite sides of the same coin!
That coin represents the Mistress and Her slave participating in a mutual fetish (in this case, financial domination). Both are needed, but get different things out of it. In this case, you provide the coin, and I get the coin! 🙂
If you're reading this, I already know something about you. You are either already a paypig, or you are intensely curious about being one. Of course, not every paypig is the same…but My goal is to install you on your respective side, and in the beginning I will be finding out how to get you there.
What makes you weak in the knees?
What makes you hard?
What makes your mind spin?
What are your paypig triggers?
What is it about ME that you find arousing?
What is it about YOU that makes being a paypig a possibility?
I find your triggers, and I pull them again and again, watching your wallet empty,
sometimes I craft new triggers! The more triggers, the more effective the cash rampage!
Some (Many) of you are so needful of the financial Domination that you offer up your weaknesses to Me for My play amusement.
When you approach Me for the first time, you will find that I do know what I'm doing. I find out stuff. I use it against you.  And I know that makes you and most paypigs rock hard. (And it gets Me all revved up too
Now take a poll. I don't know what YOUR answer is, but feel free to ping Me on Niteflirt and tell Me 🙂

Which statement is the most arousing?
Which makes your cock hardest?
Now it's time for the spending report
Hypnowallet and I had a fun little $117 session. Every session should be at least that, don't you think?
Reactivating his Niteflirt account and spending $285 on Me was Nylonlover. My nylon feet, his week mind…no way to stop Me
Pay pig alert! Back with a whoosh was iFool!  We had an arousing "raise the rate" session with a little consensual coercion, and the iFool spent $718. The final call was a rousing 10 minutes at $50 a minute! I LOVE $50 a minute calls. You should all try at least one.
It will make your cock hard!
Mmmm Princess gigi spent $255 this week, but released in her panties without MY permission. More training needed! Shame! I have confidence in her though!
My elegant barefoot lover spent $170. I have so much more to show you lover!
Pay pig alert! My eunuch robot paypig spent $595 in mindless click and pay for Me. He completed the new Queen Lauren series, and I kept sending for his spending paytrance pleasure!
More please was another that fell prey to the Queen Lauren series, to the tune of $225! I pretty much know that every Friday I'll be able to take his cash with My shiny black leggings!
Another Queen Lauren victim was My paybitch, his debt came out to $215 🙂
And candy balls was back with $115. (And I know he kept looking for this blog post, I bet thinking about seeing his name here again got him all excited!)  AND candyballs hit the 1K level of spending!  Well done!
Helpless dave squeezed by with a mention with $105 of click and pay. Mmm
also squeaking in for a mention was wallet rape toy at $105 as well.
My exposure sissy submitted to exposure games for $104 🙂 Also squeezing in for the mention!
Helpess for another week was PIG. This time I got him to spent $321 and maneuvered him leaving lots of feedback (Is yours caught up?)
This was the Lauren, Queen of Greed series that had many of your heads spinning and your cock hard…
check it out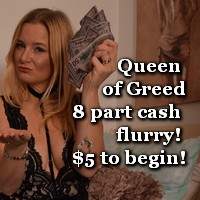 And get going on your blog mention for next week!
Lauren
Many of you know that I work with SeducedByJane on Niteflirt quite a bit. We run a joint account, TwoMeanGirls, and we've done games and activities together for our slaves/pets.
Well, it seems as if a new money slave Jane has (and blogged about here) found himself over in Lauren Land this evening. Jane had shown me the transcript of their yahoo conversation, and I recognized the sniveling tone right away in his email to Me, and he also referenced Mistress Jane in his first email to Me.
Dear Miss Lauren,

I've been reading more about you on your Niteflirt page, and on your blog and on your pages with Mistress Jane on TwoMeanGirls.

You are beautiful, and I am getting this image of you and Mistress Jane standing over Me taking all my $$$.
I took this opportunity to send Jane a quick text message asking her if I minded her exploiting her prey.
Her answer. "Go for it!"
So I raised the rate on my FinDomme listing to $8 a minute, and told Prey to call.
And while he was on the line with Me, I conditioned him to obey, sending him pay email after pay email. $25, $50, $100, culminating in a nice $150 email.
And of course, a $160 charge for the 20 minute phone call….that I ended by saying…
Oh, Prey…be sure you send Mistress Jane a gift tribute for $100 as well.
He better have, I'll be checking.
I have used hypnotic techniques on my money slaves for ages, but recently I've become even more open about it.
This of course, begs the question….
Is it possible to hypnotize a slave into handing it all over?
Can my milky words make him surrender all his wealth, without any visage of free will?  Even if he had never imagined it…never fantasized about it?
Conventional wisdom says no…that you cannot be hypnotized against your will.  That only if you desire it DEEP DOWN, can hypnosis manifest into reality.
Is that true?  I mean, are you worried that if you surrender to My hypnotic power that you will mindlessly deliver your cash to Me?   Awaken to find in horror that you've sent me thousands of dollars without a conscious memory of doing so?   Find yourself hypnotically addicted to giving Me money?
Conventional wisdom says this will not happen…UNLESS…you have a secret desire to have Me financially fuck you over.  Oh..and it might be an unconscious desire.
So succumb to My hypnotic words.  And if you have the unconscious desire to give Me all your cash, you can be sure you'll be transferring it all  to Me!
Being a financial slavery aficionado, and having a great many financial slaves serving Me in varying capacities, I have voraciously read all that has come across my computer, and talked for hours with money slaves about My fetish.
There has been a great deal written about what a "true" *coughs* money Domme is.   That a Domme that seeks to destroy a man financially isn't ethical or a real Domme.
I however, disagree. And as so often happens in fetishes involving edge play, (And taking someone into bankruptcy is certainly edge play) the practice has been demonized by those who would not practice it.

I certainly do not take ALL of my money slaves to financial ruin, but when I have that opportunity, I take it.  Much like a S/m Sadist who enjoys having a true pain slut under his whip, someone who hungers for the pain, needs the pain, begs for the pain, needs the tears and seeks out the sadist willing to dispense the needed intensity.  And as a participant in the BDSM scene, I'm well acquainted with pain sluts (And have done my share of edgy hands on bdsm play as well).
The extreme financial slave is someone who needs an accomplished financial sadist to have no mercy.  An extreme money masochist often is taken to the gutters more than once in a lifetime.  Those men often repair their finances for the sole purpose of being in a position to have a harder and more satisfying fall with a Mistress.  Life becomes a conduit for experiencing the maximum pleasure of this fetish.
And what does the Financial Sadist gain, other than the obvious money?
Power of course.  Money *is* power,  and there is little more submissive then forking over more money then you have to a beautiful Mistress who is getting off on the sacrifices and consequences of that exchange.
Recently many of you read of the continuing saga of Bankruptcy Boy J.   He really has nearly nothing left from his trip with Me into ruin. He's lost his home, his job, his wife, his credit.  He's sleeping on his brother's sofa and working at a Walmart.   He calls Me when he can.  Someone commented to Me that I shouldn't allow him to call Me anymore since he hasn't the same amount of money to spend, and that's what makes Me a "true" financial sadist, is that I want to HEAR how My raping of his money has affected his life.  I get off every time he calls Me, even if I'm not taking thousands a week from him anymore.
And the latest from Bankruptcy Boy J?   He's started sucking cock for money to finance his phone calls.  He told me in detail about his adventures being the suck toy for one man, and its only one man paying him for cock sucking at this point.  Maybe it's not true, maybe its all fantasy, but what fantastic erotic material for a financial sadist!
So do you want a Financial Domme who will make you give her a set amount of money that you can budget for like she was your mortgage or your car payment?  I can do that..but wouldn't you rather have the woman who can seduce or charm your car payment out of you, leaving you to scramble to readjust your life, so that you make daily sacrifices and suffer for Her?   That, for a financial Sadist…is romantic….and erotic.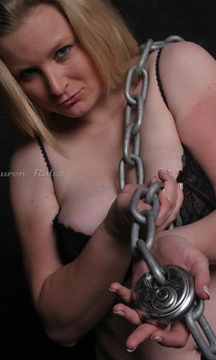 The reason I am such an effective financial dominant, is that getting rich is the side effect of being a financial sadist, not the purpose of it.
I have a fetish for financial sadism.  I love the power of seducing men out of large sums of money.  I love the rush I get from truly making a man crazy enough over me to pay me obscene amounts of money to glimpse a photo or to hear my sultry voice saying things that make him lose sight of the money he is spending.
And I get off knowing that when he realizes days or weeks later how much I have extracted it will make him sick to his stomach.
And I get off knowing that I'm training him to be aroused by my fucking him over again and again.
So arouse Me….
This blog is for anyone curious about the inner workings of a Financial Dominant.
I do not speak for all, but I do speak for myself.
I came across this fetish backwards. I have been a lifestyle Dominant in my local BDSM scene for years, its part of my relationship style. I came to know myself as having a deep sadistic side. It didn't satisfiy me to just to hurt someone physically, I enjoyed orchastrating the mind fuck on my slaves and submissives. I enjoyed making them face dark things about human kind and themselves. I loved making them weep and kissing their tears away. I did not and still do not practice money exchange for live play.
Some years later, I came to explore my BDSM fetish as a telephone fem-dom on the predecesor to Niteflirt.com, a site called Keen (It still exists, but no longer offers adult services). I did this on a very part time basis, for extra money as I drudged off to work like most wage slaves every day.
By the summer of 2007 I was ready for life changes. I quit my job as a wage slave and relocated to a community I had made connections in and loved. My original plan was to take Niteflirt calls to earn money until I found a job.
Something amazing happened. Since suddenly I was available regularly, it only took a matter of weeks before I had built up a clientele so strong that it no longer made sense to return to a "regular" job. It didn't take long for me to begin to deeply appreciate not only the income I was earning but the absolute flexiblity of controlling my hours and when I worked and had both the time and money to vacation as I wished.
Like most Niteflirt girls, I create a listing in financial domination, really having little clue as to what it was about, but figuring "it can't hurt' No one ever calls it.
Skip ahead a few weeks, and I get a lovely call on my regular Mistress listing from a lovely man that I immediately connect with. He begins calling me several times a day, and it comes to light that he has a fetish for financial domination. I pay close attention, and its not long before the sadist within awakens and responds to the money masochist. I take him to the edge financially many times over the course of the following weeks. A piece of me has pangs of regret, I have come to enjoy him and his calls. We get deeper and deeper, as he liquidates asset after asset to satisfy our mutual need.
Eventually, I break him, alas, the fetish turned out to be stronger than my affection for him. I cannot stop and he cannot stop Me. Him maxing out his credit cards with no means of paying them off easily stops the train.
Around this time, I start attracting more money slaves , and I realize that each contact leads me deeply aroused. Most of my fantasies now revolve around using men for money, to the point of causing them financial distress.
Am I a piranha? Well, piranhas are predators that swarm in a group. I work alone, so I would have to say. No.
Am I a vulture? Vultures pick apart dead carrion to the bones. I prefer lively prey with meat on the bones. So once again, I have to say, No.
I am a woman with a fetish for a power exchange. A woman who now lives a good life living that fetish.