Category —
Hypnosis
I am not strictly a hypnotist.  I don't have any special training other then what I have gleaned from speaking with certified hypnotist friends and reading.  I am a natural, I know instinctively how to lull men into a false sense of complacency and make their cock throb on command.
I actually *can* do hypnotic sessions, but I find them a bit draining and less profitable then just fucking your mind up so much you just buy PTV after PTV.  Hypnosis is but a tool for Me. I insert it into everything I do, every email, every PTV, every phone conversation. It is covert. It is overt. It is subliminal, and it is right out there for you to view. It works.
Many men have doubted, and many of these men now have huge credit card debt.  I warn all of you.
I am dangerous.
I am not playing around.
I am easy to talk with but that is part of what makes Me deliciously addictive
I will make your cock throb like nothing else in your life.
I am extreme.
you will be Mine….another addicted junkie for Lauren
This week's spending report:
Sporadic paypig, "rare whale" was by last night to drop Me off $665 in spending, mostly on My goody bags. He's one of those that I use hypnotic techniques on…
Here is one of the Mantras I used on him
"I surrender to Lauren and her hypnotic crystal"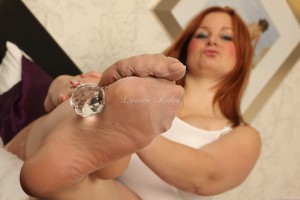 My hypnotic surrender crystal makes
seasoned paypigs like rare
whale surrender.  You have
no fucking chance!
Another slave of Mine, nylon lover, become mesmerized by My reinforced pantyhose (as in the above photo), and I completely took a ride through My junkies credit card accounts to the tune of $752.
My armpit loser was tranced through imagery of hypnotic armpit fragrance making him surrender.  $200 was Mine.
A very polite sissy new to Me I'm going to call curtsey on here spent nearly $200 as well. Very good girl. I LOVE addicting sissies, I find them so easy to manipulate with a combination of kindness and humiliation. Very profitable.
Speaking of manipulated sissies, princess gigi shoved another nearly $1100 at Me this week, while I spent the week teasing her about finally being allowed to cum.  She stayed chaste and soft the better part of two whole months. And this week I kept commanding her to rub her little sissy parts and be hard, and finally after an agonizing week, I allowed her a release. Dear gigi. Next time it will be longer than two months!
paybitch terry spent another $235 after an unsuccessful attempt to stay away. I laugh every time I see a weak little slave try to make a run for it…I'm like a cat with a mouse, only amused at your weak efforts!
My robot paypig eunuch clicked and paid $235 without even any encouragement on My part. I didn't even realize how much he mindlessly spent until I added it up. Delicious!
And I lured cumstain back in for another $525 dollars. The losertard has a weakness for latex and black strap ons. I exploit that….
My young slave no nonsense guy threw $135 he didn't have at Me.  Good boy.
After her brutal cash rape last week, marla STILL couldn't stay away, but this week was an anemic $233 in comparison.
and Last and least is my wallet rapetoy, who spent $427 on Niteflirt on his owner, and surprised Me with nearly $800 worth of spending on My Amazon wishlist, including a new Fitbit Charge wristband, a cute new Rebecca Minkoff purse, new running shoes for My girlfriend who runs with Me, coffee (of course), a new knife for My boyfriend, and a bunch of new garden tools.
I don't know why more of you Losers don't buy stuff on My wishlist, you don't all have to spend big bucks….also I LOVE Amazon gift cards (send to Laurenamazon at gmail), I use it for stuff like household items too boring to put on My wishlist, and sometimes you need to order something where time is of the essence.

Cash rape trance….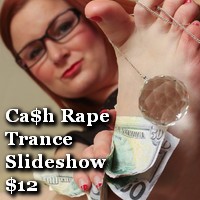 The evil hypnotist has returned…
And She is testing about a new cash rape trance.
You are invited to be Her subject
Purchase this slide-show with audio.
Listen to it in it's entirety and that is all you have to do!
Dr. Lauren will be keeping statistics on her webpage.
# of subjects
# 5 largest cash rapes as a direct result of this test
# total amount cash raped as a result of this test
I am so excited to see all you piggies get all whipped up into a frenzy and begin your descent deep into your doom.
The audio will get so far into your head….
Well tPay just couldn't stay away…..seeing his name in My blog just got him so excited, that do you know what he did?
He opened a new credit card and it burned a hole in his pocket…
I got an email early in the day, and by early evening, he was burning through email after email…
I had boys begging for attention that had to wait, because tPay was buying paymails faster than I could send them…
in a dizzying, heady ride, he spent over $2500 in slightly more than an hour!  Hawt!
So far, in only about four weeks, tPay has spent about $14,000.
Holy damaging finances!
Mmmmmm  I have more in mind for tPay….
and you to can have a little danger with Me…
I released two new photo sets today….each one a set of three  and YES, there is always more available just ask..
If you are not a Niteflirt member, it will prompt you to log in, just sign up for an account and buy the damm pay mails! lurker!
Dr X is what I've called him in my mind since he won My online contest "The Game"  last summer.  He has become much more to Me since, and a loyal and devoted slave.
The past couple of weeks he has truly awe=-inspiring and the rest of you should take a page from Dr. X.
Last week after spending about $1000 on me, he went to my Amazon wishlist and purchased me a brand new laptop computer, and a very nice 35mm SLP Canon digital camera with a zoom lens. Actually, he accidently purchased 2 of those beautiful cameras, and he told me to return it for a $500 Amazon gift certficiate.  Nice!  Those arrived Thursday.
And last night, My good boy went crazy finishing my high stakes Hypnotized Money Slave series and spent over $2000 dollars, culminating in a $999 paid email. I wasn't even there egging him on, and he did it anyway, just to surprise Me!

What a awesome sight  to see all that money in my account! I began My day with  a huge smile on My face, the rest of the weekend is just going to be frosting.  And good timing, because I'm going on a short vacation in July, and its nice to have a little extra pocket money.  Oh, and I'll have a beautiful camera to record all my vacation adventures 🙂  New Orleans here I come!oh, and for the record, this is the game that created the mindfuck that made him pay and pay and pay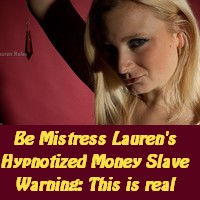 Well done Dr. X!
Last week I released my newest video….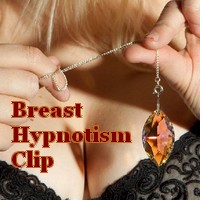 and you?  Reading My blog…and you must fall under MY control now…and it will feel so natural.
nothing matters but Me…Nothing
Go buy the clip now…and then email to begin (or continue) your submission to ME.
Good boy, now you can become another addicted slave to My desires.

I didn't post it here, but I recently released a new PTV series….

I wasn't sure if it would work, but it seems I've turned several hypnosis fans into money slaves. And I've taken present money slaves and this has reinforced their devotion to Me….
So try it…but be warned.
In other news…all my games seem to be running again. I'm in the process putting them back on my listings…(I need to neaten up my listings a bit…so it is coming in the next few days) I'm putting them back on my "games page: of this blog however 🙂
I have used hypnotic techniques on my money slaves for ages, but recently I've become even more open about it.
This of course, begs the question….
Is it possible to hypnotize a slave into handing it all over?
Can my milky words make him surrender all his wealth, without any visage of free will?  Even if he had never imagined it…never fantasized about it?
Conventional wisdom says no…that you cannot be hypnotized against your will.  That only if you desire it DEEP DOWN, can hypnosis manifest into reality.
Is that true?  I mean, are you worried that if you surrender to My hypnotic power that you will mindlessly deliver your cash to Me?   Awaken to find in horror that you've sent me thousands of dollars without a conscious memory of doing so?   Find yourself hypnotically addicted to giving Me money?
Conventional wisdom says this will not happen…UNLESS…you have a secret desire to have Me financially fuck you over.  Oh..and it might be an unconscious desire.
So succumb to My hypnotic words.  And if you have the unconscious desire to give Me all your cash, you can be sure you'll be transferring it all  to Me!
For all my girly sissy freaks and wannabe girls…a hypnotic recording! Go ahead…click and buy it…mmmmm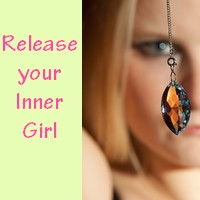 <\a>Some of you are aware of how I have recently been more open about offering erotic hypnosis.  It is, after all, another tool to control you. I've been using it in My sessions for quite some time, and in the texts of My PPVs, but I haven't pointed it out.
That is changing. I am now, officially and openly now practicing Hypnosis–primarily as yet another Mind Control Technique.  And be careful.  I am really adept at it. *laughs*