New Years and Paypig Resolutions
I have resolutions of My own as the Premier #1 Findomme on Niteflirt.
2 blog posts a month to really draw in the pigs and remind them of their proper place in MY world
Develop even MORE dangerous mind control techniques to keep My slaves in their proper place
Develop ways to take UNSUSPECTING submissive men under My wing and then condition them to be paypigs.
And of course, you should have paypig resolutions as well, shouldn't you? Happily, for you, I have some ideas.
Begin each day by sending Mistress Lauren a small tribute to let her know She comes first every day and is on my mind.
Plan a big blowout 4-digit session with Mistress Lauren to happen in the next couple of months. There are ways to finance it.

1. Open a new credit card or free up $1,000 credit on an existing card.
2. Take out a small loan (you can borrow online)
3. Devote your income tax refund to it.
4. Lie to your spouse/relative/friend and tell them you need an expensive car repair, so they give you the cash for it.
5. Get a temporary second job to save for this treat.

At the beginning of each month, send Mistress Lauren a gift card or a gift from Her wishlist (look for the link in the left sidebar) I really like gift cards
Plan a weekly session every week and make sure you always have the cash for it!
Look at funding sources you haven't tapped into. Retirement account? College fund? Home Equity line of credit? Just one little 4 figure session won't matter in the great scheme of things and you won't forget it. Some of you might need a 5 figure session to not forget it, and I'm very much in support of that idea too!
Plan to spend. If you have to borrow cash to fix the roof, buy a new car, consolidate loans, always borrow a thousand or two more than you need to pay Me!
Give up things you don't need and save that cash for Me!
I am full of all kinds of ideas to help you have a big cash fuckover with Me! You can comment with your ideas on this blog post as well!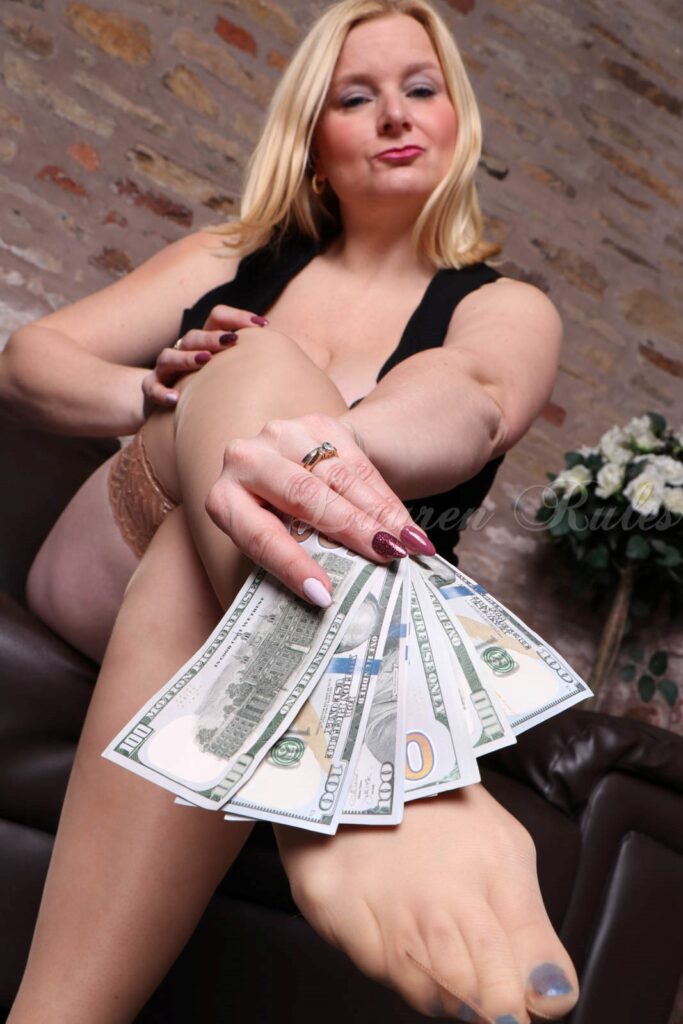 Newest Pay to Views
Did you buy them yet?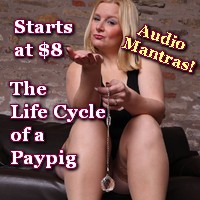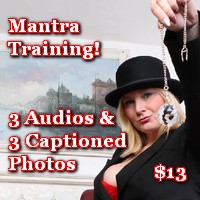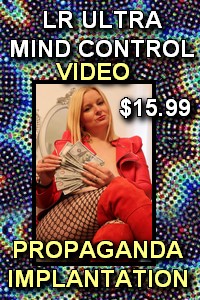 And now it's time for
The Fuckover Report
it's a very long report because I haven't blogged in a while, all this spending keeping Me busy!
Legendary Paypig Alert!
My good sissy girl marla was a VERY good girl recently, calling Me again and again, and paying lots and lots of pay to views. It's sooo nice to have this historically top spender getting legendary paypig alerts again! She spent $3892 since the last blog entry, WOW!
Legendary Paypig Alert!
Another good boy earning a Legendary mention is spawn. This good boy has been so devoted to clicking and paying and wanting to show Me that he is working hard to get My attention and approval. And I am proud of having him as My slave. He spent $2070 this period, wow!
Legendary Paypig Alert!
Earning yet another legendary alert is buffy. This sissy is My number one spender on Niteflirt, and has been with Me for over 12 years. She has spent nearly $250K in that time. (I expect she will hit that this year). I may drive her into bankruptcy at some point, and that wouldn't be a surprise. Her little clit doesn't get hard anymore, and well that isn't important, she just takes more estrogen to keep it soft. She is My brainwashed good girl. This time she spent $2120.
Extreme Paypig Alert! My very good boy boomer is incredibly addicted to Me. I know ALL his triggers, which he helpfully told Me, and I use them against him repeatedly! He spent $1825 this time around
Extreme Paypig Alert! Earning his first extreme alert is payhog scott. This hog strokes and pays Me with numbing cream on his tiny dick. Can you believe this freak? Earlier today, I finally broke him, he paid extra for something he really wanted badly, and made My alpha boyfriend happy in the process. Yes I am being mysterious. He spent $1801 this time around. HOT!
Extreme Paypig Alert! Getting another red letter mention is helpless dennis. He would like to NOT be addicted, but he seriously can't cum anymore unless he pays Me. He tries to be rude after he cums, hoping I will block him, but I am wise to this strategy. He ends up paying Me a lot of money to apologize. He spent $1565 this time around
Extreme Paypig Alert! I'm actually surprised to see that My raise the rate slave, "jerk jockey" called enough to have spent $1020. First his ex-wife addicted him to financial domination and now I'm exploiting tht need
Extreme Paypig Alert! Another good boy was j the junkie. His addiction is taking over, and he is heads over heels in love with Me, and it shows in his spending! He spent $1115 on Me since the last blog entry.
I'm very proud of him!
Extreme Paypig Alert! My slave PIG is eternally addicted. I know how to trigger him to spend more and more. He's helpless. He spent $1205 this time around!
Extreme Paypig Alert! My addicted extreme paypig "steve q fucked" came around again and again to be fucked over. He loves to send big tributes. I love getting them. He spent $1452 since the last blog.
My good boy sniffer did a couple of calls and spent $197. Nice!
Paypig Alert! My special good boy kept calling for more Dr Lauren therapy to cure him of his FinDomme addiction. I can't help him to be honest, but he spent $490 trying. (Just missing a Huge paypig Alert)
My pantyhose junkie called a couple of times and spent $160. All part of the addiction process.
Huge Paypig Alert! My nylonslave is such a good boy, he really just keeps falling more deeply in love and simply cannot stop. He doesn't want to stop, so he has figured out how to keep paying Me. What a good slave! He spent $608 since the last blog post
My boi wayne messed up his Christmas budget by spending $236 on Me. I wonder if his wife noticed.
Paypig Alert! My loser "gooner" was desperately gooning and calling again and again, spending $375 in the process. Too bad about his tiny dick.
After a little break, My good boy "mind controlled john" was back, spending $145 and hitting the 10K level of spending! Well done
New to the Blog: Not new to me, but finally getting a mention after calling Me for 12 years, is a guy I am calling FINALLY. He doesn't talk very long, but this time he called many times, finally kicking him over the threshold. He spent $125. Good boy! Now let's get you a redletter mention!
My good boy, niteflirt client spent $268. It's sad for him that I cut off the spending report this afternoon, because he spent a LOT this evening. It will be on the next blog though 🙂
Paypig Alert! Doing a lot of click and pay recently is My good boy, true loser. He left nice feedback too, and I was proud of him for spending. He spent $365, and I can't wait until he does it again!
New to the Blog: New to the blog this time was a guy I can calling "freeway" He spent $135 this time earning a mention. Good boy
My good boy pignic earned a mention for $140 of spending. I just realized he's only about $8 from hitting the $6k level of spending, wow!
New Slave! New to Me and to the blog is a slave I am calling "cheekie" who bought some pay to views and chatted with Me some on chat. Cheekie spent $213 learning how dangerous I am!
Also getting a mention this time is quiet gentleman, who spent $114 being mesmerized by Me.
Another mention was earned by helpess dave, who also spent $114 this time around as well. Good boy
Huge Paypig Alert! as hard as caged yankee tries to stay away, this sissy just can't manage it. This good girl spent $559 not doing a good job staying away, but doing a GREAT job making Me smile at it.
My good boy legtranced earned a mention, proving that I DO have control over his weak mind. He spent $148
Huge Paypig Alert! My good sissy bambi and I had a lot of fun in the pink hypnocabin. She spent $670 enjoying it with Me! I love our time together.
I am really happy to see my good boy cosmo get another mention. He just squeaked in for $104. Maybe better next time?
Huge Paypig Alert! My good friend boyscout spoils Me so much! He spoiled Me for $510 dollars this time around, which makes Me very happy!
Huge Paypig Alert! Getting a huge alert is My very good boy Lauren's footlicker, who spent $434 on Niteflirt and $116 on Amazon to total $550. Splendid!
Manging to both get an alert, and hit the 1k level of lifetime spending was oldie, who spent $112. Good!
Huge Paypig Alert! A nice alert for My very good slave bloom. This slave keeps coming back for more and more, and no one is more pleased than Me. Spending? $758. Keep up the good work!
Huge Paypig Alert! Earning yet another red letter mention is button. I'm always happy to see him appear and click and pay, nothing makes Me smile more! He spent $504, squeaking in for the "huge" mention.
New Slave and Paypig Alert! New to Me and the blog was leo. This guy discovered how dangerous I can be as he went on a massive click and pay flurry. He spent $470 getting addicted. Nice!
Huge Paypig Alert! Unable to stay away candyballs spent about $713 on multiple accounts. Very good boy.
My good boy, grunter spent $177 this time around. I enjoy this slave.
Huge Paypig Alert! My good boy lex, lost himself in click and pay for Me, spending $438. Nice!
good boy simpy spent $203 this time around
I'm always pleased to see Loserbeast get a mention. He spent $274 this time around.
Huge Paypig Alert! My slave tPay really tried to stay away, and failed. The sad thing is that he "just" missed getting an extreme mention, but he did spend $932. I have a feeling an extreme mention is in his future though!
my good boy veryhard4Lauren spent $107 to get a mention, and he recently hit the 10K level of spending, Nice!
My good boy panty pete spent $160 being teased by Me!
And to conclude, My good boy footdazed spent $100 on some custom audio work, getting a mention.
Next time, I want to see YOUR name on My blog. Resolve to do it now.