The Game 2022 is Coming Soon, Get Ready!
I had originally planned to have a new Paypig Competition, this weekend, called The Game: 2022, but I ended up with a very topsy turvy week, and literally two hours before I was going to unveil and begin it, I got the news that a close family member was being transported by helicopter to an ICU in a major medical center, and instead of beginning the competition, I was racing in my car to the hospital, and spending hours holding her hand as the medical team worked on her.
Here is my public service announcement. Learn the symptoms of a stroke. My family member got help quickly from those around her, received an injection of a "clot-busting medication" within the first "golden hour" and today she is going home, with support, only 48 hours later. It could have been fatal or life-altering, but we still have her with us, 95% intact and improving by the hour, all because those around her knew the signs of a stroke.
I normally do not use My blog for these types of things, but this one was close to home, and I am grateful that My relative is going to be fine.
Now that the PSA is over, I am announcing the new dates of "The Game 2022",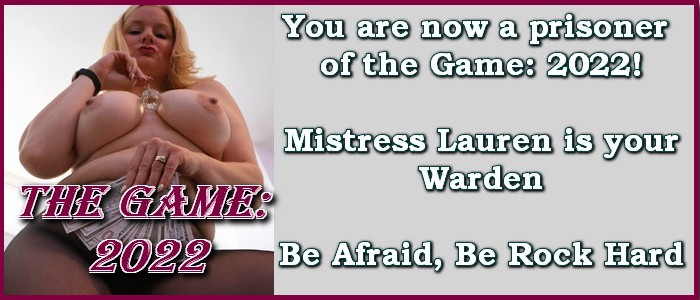 I will start it Thursday, Sept 15th and it will go through Monday the 19th. This will give Me a chance to develop some enhancements to make it even better, and to get you all excited!
I had done a Fuckover Report so that we could start the spending calculations on a fresh note for the competition. I am including that here (the last couple of days added in). I will do a new one just before the Game starts, so it will be small next time.
What can you do to get ready for the game?
Add Me on Twitter for all the hype and updates, @laurenrules
Be sure you are getting blog notifications. Subscribe at the link above, or ask Me to add you to the Niteflirt notification list.
Find some cash so you can compete! The more cash, the more glory!
The Fuckover Report!
Legendary Paypig Alert!
Noddy is back, and I am sooo happy to be fucking this loser over again! He tried to stay away, managed for a few months, but the losers always come back, just as they are beginning to pay down their credit cards, so I can just run them up again! In two sessions, noddy spent $2022. (Just like the year!)
Extreme Paypig Alert! I think this might be this guys first red letter mention. (If I am mistaken, I'm sure he will tell Me). I think we are both a little surprised to find out he spent $1100 in finding out all about My dangerous side! I'm calling him. "true loser"
Extreme Paypig Alert! My very good girl janice came in with a bang! She made a mistake, and I made her finish a series to atone for it. (I am mean, no?) She spent $1061 getting what I think was her first Extreme mention! I am proud of you good girl for doing what was right.
Extreme Paypig Alert! Squeaking in with Extreme Paypig mention was boomer. He spent $1030. This pig is so addicted, that he just cannot stop. Sooo erotic
My nylon slave worshipped me to the tune of $165. Nice!
Paypig Alert! Spending $448 was helpess dennis. He is another addict for Lauren, helpless to stop
My swedish dog came back after a hiatus, this time spending $180.
Are you on a hiatus? This is an excellent time to return to play The Game 2022
Paypig Alert! The iFool was back with a new account! He spent $457 in a brush with cash danger with Me!
Stopping by for a session was good ole wallet cunt. It's been years since our legendary fuckovers, but I am always glad to see him appear. He spent $193
Huge Paypig Alert! My good girl marla was back a couple of times, and I LOVED getting into her sissy head again and again! She spent $845, soooo sexy.
A blast from the past was sissy jocelyn who spent $117. Very nice!
Paypig Alert! My palm-humping loser pigbait is losing control. He TRIES to stop, but it's only gotten worse and he can only orgasm from paying My magnificent breasts now. He spent $375. Sooo hot
Squeezing in for an alert was quiet gentleman who managed $103 for his alert 🙂 Good boy
Huge Paypig Alert! Just squeaking in for a huge mention was PIG. This PIG is #3 on My spending list and he won't ever escape. He spent $501
Paypig Alert! Another sissy who has been losing control lately is sissy jenna/caged yankee. She's on a new account and she spent $300 this time around, sooo sexy to see her lose control again and again.
Paypig Alert! My good boy spawn earned another red letter alert, clicking and paying all the way to $462. YUM.
My good girl bambi spent $222 in a fun, lighthearted pink hypno evening.
Huge Paypig Alert! My good girl gigi kept coming and tributing larger amounts. She managed a couple of breaks for a few days, but she just kept returning, as she has been brainwashed to do. She spent $671
Just missing out on a Huge paypig alert was My good boy irish dope. He spent $298. Sooo close.
My boyscout stopped by to spoil Me for $251. I love that
Lauren's footlicker, is as steady as always, spending $120 between both Niteflirt and My Amazon wishlist
My slave candyball was back. Again. And again. And again. EIGHT different accounts. He would make one, spend while I was asleep in the middle of the night, and delete it. and then make another. His spending totaled $225. Hey, candyball. Maybe just one account for keeping track better?
Footdazed came around to spend $298, such a very good slave
My flip-off idiot literally squeaked by for a mention with $100 worth of spending