6 Things to Do to Prepare for your Extreme Financial Domination Session!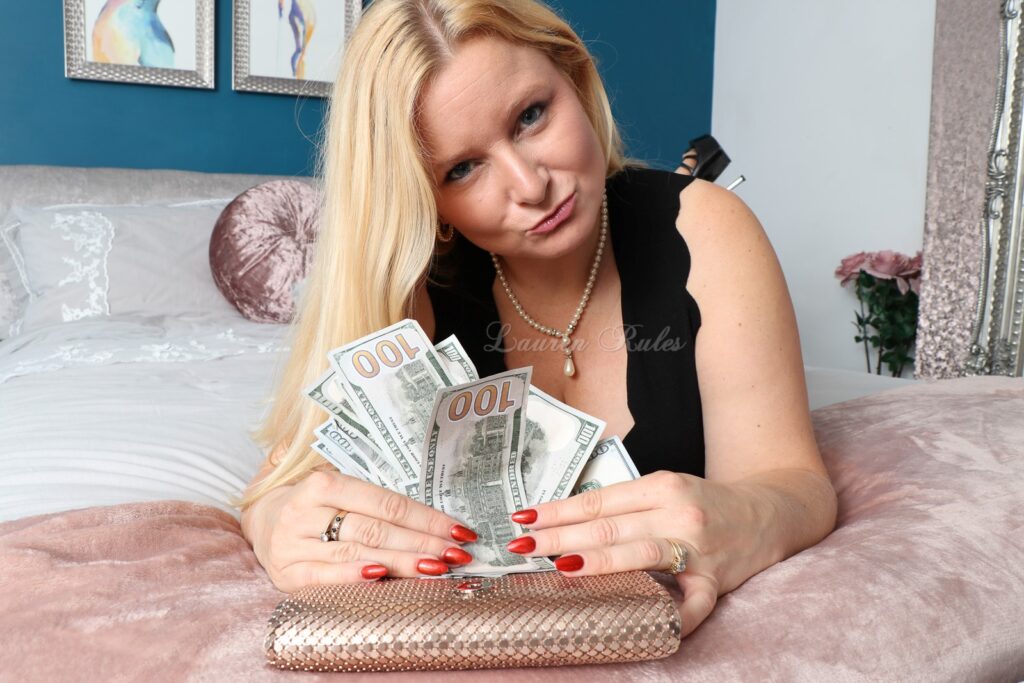 1. Set your mind in the proper framework.
Why do you want an extreme session? (Lauren tells you why)
The main reasons are service, arousal and recognition.
This is a memory that will live forever in a paypig's head, always ready to stroke to. It will remind itself of you when the bills come, making you hard and reminding you of your submission.
This is proof of a submissive paypig's service. There will be recognition on My blog, the other pigs will see you, and perhaps inspire them to pay Me more like you.
2. Set a Goal
Set the minimum amount that you want to achieve. I consider $1,000 and up to be an extreme session.
And if you want to do $2K? $5? You need to prepare! (note: although I don't consider less than $1K to be an extreme session, you can use these same techniques to prepare for smaller ones, for example $500)
The Goal might also include additional goalposts, such as maxing out a credit card, spending the proceeds from a stock sale, surrendering your tax refund or stimulus check to Me!
3. Find the Money/Funding
Inventory where you can get the funding for this session. Bank accounts, credit card balances, retirement accounts, things to sell, are examples.

Some accounts need time to access, prepare! Need more credit? Pay off a little, or better yet, ask for a credit limit increase! This is more likely to be successful if you are NOT maxed out.
Also opening a new credit card is an option, a brand new one for Lauren to max out in session!
After you inventory your resources, you may actually want to increase your goal!
You may have money coming in. Tax refund, work bonuses, a stimulus check, so many possibilities!
For pigs with a lot of debt already, one cannot overlook debt consolidation loans. These are loans with a lower interest rate than credit cards that you can take out for the purpose of paying off your credit cards and having a set payment each month for a period of time. It's a great way to really get yourself into more debt as you free up your credit cards to max them out again!
4. Get your Mind Ready for your Fuckover!
Spend a few days stroking to this fantasy. Get your COCK ready for it. Become HUNGRY.
Check with Me and find out WHEN would be a time for us to do this when I am around and you won't be interrupted, and the cash is available.
Stay hard as you prepare. Asking for a Credit Level Increase? Make sure you're hard when you do it. Imagine Me taking the cash. Liquidating an IRA Account? Stroke during the time you are filling out the paper work to request it. Stroke again when you see the cash come in.
Read here on My blog about My prior fuckovers and IMAGINE YOUR NAME in My blog as an EXTREME PIG.
5. Plan the Logistics of Our Session
Have an idea of HOW you would like Me to take your cash. Personal Pay to views? An existing series? Tributes? A raise the rate series of phone calls? It can be a combination, and if you have a thought that will make you harder, tell Me! (They all work for Me)
Don't ask Me to plan it unless you accept what I tell you to do! (This is so frustrating for Me, it should be erotic for us both!) Remember this Rule. Lauren Rules but She is not a mind reader.
Also, don't expect Me to spend 100 hours taking $1000 from you. That's not how any of this works. Whatever you choose should be complete in an hour or two.
6. The Session Arrives! How to Best Enjoy it!
When the session comes, remember you have goals and you don't want to cum too fast. Edge yourself slowly. If you need Me to take the money faster, so you can make it, say so! Or send tributes!

On the other hand, don't waste a lot of time early stalling, that frustrates Me, and this is the most erotic for us both if we get a rhythm going!
So get ready for your Extreme Session. I can't wait!
In other News
My new Pay to View Store is basically done! I'm still adding some new pay to views, but the core is done and it is cell phone friendly now!
Check it out!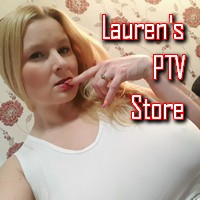 The Fuckover Report
My favorite regular feature, and even though there have just been two weeks since My last blog entry, there is a ton to report!
Legendary Paypig Alert! Let's start with a fun one! tPay came back and I fucked him over well, over a course of two days. First I got his stimulus check, then I got his bitch wife's stimulus check, then I got even more as he maxed out his credit cards! He's been having arguments with his wife all week about money now. I wonder why? *laughs* He spent $6055. I was surprised when I added it all up! Wow!
New Slave. Next up is new alex. This guy spent $165 on a raise the rate session then deleted his account. I guess he figured out how vulnerable he would be to Me!
Back with more phone calls was sniffer, who spent $193 I have a feeling a big session is in his bones waiting for Me to take.
New Slave AND Extreme Paypig Alert! A guy I'm calling triple pig arrived with a true flourish! He started of sending healthy tributes in chat, then called for a nice raise the rate game and finished sending Me HUGE tributes. His virgin session (plus a little more the next day) totaled $1690! Well done!
My good boy boomer came back again (after trying to delete his account again) and spent $177
Huge Paypig Alert! PIG was calling, chatting and tributing as usual. His cock needs regular fuckovers now, a cautionary tale! He's spent well over $100K in the decade he's served Me
Unable to cum without paying Me, was helpless dennis. I've got him trapped by conditioning him to need to pay in order to cum! He spent $208.
New Slave AND Huge Paypig Alert! This was a great past couple of weeks for new slaves. This slave, payslut, got caught up in a raise the rate session, and along with other spending, I exploited him for $551. Delicious!
j the junkie squeaked in for a mention with $105 in spending.
Paypig Alert! After an extreme mention last blog, fruity was back and spent $375. I believe I have the pathetic fist pumper addicted!
Barely making a mention this time was sissy bambi for spending $101. I need to get that girl back under My power soon!
Paypig Alert! My elegant foot lover was back to show Me some cash love to the melody of $362! I love our sessions!
Making a mention between Amazon gifts and spending was Lauren's footlicker, who managed $101
New Slave! broke loser spent $182. He can't afford Me, but I'm going to cash fuck every dime I can from him. I'm not going to work hard for it either. Pathetic!
More please was back and I exploited him for $245 over My black leggings! It helps to know a victim's weaknesses!
Paypig Alert! I was really pleased to see My greek virgin come back into My sights again, this time with a nice $328 fuckover! I'm sure he's weeping over his credit card bill now.
Back spending again was sissy prim. She spent $232 before disappearing again. She'll be back.
Paypig Alert! And earning a paypig alert was titpay ATM who spent $300 on Me one evening .YUM
Coming around for more mind control was quiet gentleman. My selfies really grab him! He spent $177 since the last blog entry
Huge Paypig Alert! Coming back again and again, almost daily to spoil her Queen was buffy, the incredible clit shrinking sissy. She tributed Me $889 the past couple weeks! Well done!
Also re-emerging was sniff robot, who spent $120. Stay and spend more next time!
New Slave! Making a quick appearance was new slave loser282. He stayed long enough to spend $292 and then disappeared. I'm sure he will be back when he realizes how GOOD it felt to be fucked over!
So plan your next blog mention by following the steps above! I wonder how many extreme mentions I will get?