A Dangerous Bond
I'm one of the most successful FinDommes in the business, probably the MOST successful on Niteflirt.
There is a reason for that. I create a bond between us. For Me, it's quite detached, but I strive to make it as personal as possible for you.
It's not a healthy bond usually, it's coercive. It's abusive. It's explorative, manipulative and sexy. I train you to have a rock hard cock on My whim, from My demands, and you become HELPLESS.
This is a dangerous game, and I excel at it. I have done it every day for years and you are, most likely, a novice with NO CHANCE.
Even My honesty at how I am setting you up for fuckover is bonding somehow, isn't it?
It doesn't look the same for every pig, but I am always looking for an angle, something to make the loser feel SPECIAL so he/she keeps coming back for more abuse. Abuse itself is binding (see Stockholm Syndrome). And the bond makes it HARDER for the pig to leave, because we have something special. And yes you are special, (or am I just gaslighting you?)
You will find yourself yearning for more! And I will take advantage!
Recent Pay to views
Add to your collection, for the sole reason that we are more connected if you click and pay!
I have a favorite new game!  Guys who notice when I'm on the phone with a client and tribute Me as a bonus to My fuckover! If you send in chat while I'm on the phone, I might send photos (but minimal typing because I am on the phone!)  Try it if you notice Me on the phone! It is fun!
Also, reminding My pigs that My Pay Per View store is back up! I know have ALL the pay to views on it, even the recent ones, and I will be putting the Goody Bags there too. I have never done that, but I want everything in one place for your spending frenzy convenience!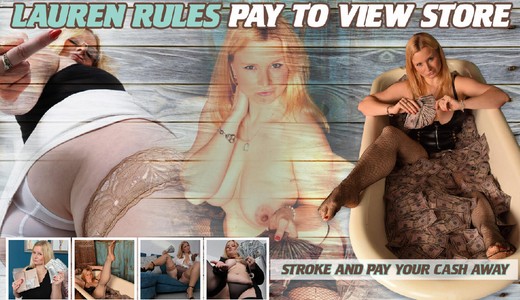 Now it's time for the FUCKOVER report!
Legendary Paypig Alert! My long time slave, steve q fucked, came back with a new account, spilled some secrets of how he loves My ultra high shoes and My hand outstretched demanding cash, and he went on a frenzy, sending tribute after tribute until he had spent a whooping $5586! Certainly one of My top 10 lifetime sessions and an absolute blast! Legendary! His attempts at quitting Me just spun him into a new level of spending, and since he confessed his high income to Me, I'll be helping Myself to more from him very soon! (yes steve, you did and I will)
Huge Paypig Alert! I had a wonderful session with sniffer, featuring long phone calls and of pay to views. He hung up so I could take a short call and tributed Me during it! And called right back! He spent $760! Sweet!
My raise the rate puppet showed up for abuse and cash fuckery and spent $151. Delicious!
Extreme Paypig Alert! My very good boy boomer, spent a ton, tried to leave, made a new account, confessed a weakness and spent even more! This hopeless addict has spent $1224 since the last blog post!
It was so nice to talk with My good girl marla spent $210 reconnecting with Me!
New slave! A guy I'm calling ass gooner, has fallen victim to Me and is discovering the dangers. He spent $231
Squeaking in like a pig for a mention was pigbait, spending $106. C'mon bait, you can do better than that!
Paypig Alert! Good boy helpless dennis spent $303 for a huge alert. I'm grooming him for an Extreme Paypig session!
and returning yet again for a hot phone and click and pay session was jeff no more. He spent $190
it was nice to see peeper clicking and paying! He spent $149. Good toad!
New Slave and Huge Paypig Alert! A new tiny dick wonder that I am calling jerk jockey completely spent every dime of his money on Me this week. The poor loser kept borrowing money from people, and turning around and spending it on Me! he spent $547. Tasty!
And back for more spending was greg in a cage, who spent $180 this time around. mmmmmm
Paypig Alert! Earning a paypig alert was clayton, falling deep under My spell again! He spent $354
My good sissy caged yankee kept returning and spent $236 this time around!
Back again spending was My fairly new slave seagull. He dropped another $127. Well done!
Paypig Alert! Getting off easy, because of poor timing was PIG, spending a mere $399. I will rape him for more soon
Back for more was fruity. He fantasizes about bankruptcy, but this time just managed $136. I won't stop egging him on for more!
Lauren's footlicker spent $117 on Niteflirt and another $30ish on Amazon. Thank you good boy!
Huge Paypig Alert! My good assbitch pleased Me with $644 of spending! Well done My slave! He is now My property!
My quiet gentleman managed a mention at $110. 🙂
Paypig Alert! It has been sooo nice to have a session or two with Dr X. There are huge fuckovers in our future, but I did enjoy his $317 on Niteflirt and $109 on Amazon too!
My sissy cocksucker and I had a great session and he spent $281.
Spending $197 since the last review was good boy helpless dave.
Extreme Paypig Alert! My good girl buffy is an impotent limp sissy now, since she's been taking estrogen to please Me. I introduced her to a new pleasure. PaySex! With paysex, paying Me causes sexual arousal of the brain leading to mind orgasms. It's intense! And expensive! She spent $1466 on Me. She will be shocked to see the amount, but will still crave more paysex!
A slave that just keeps trying to escape Me spent at least $250, possibly more on a myriad of accounts. I see you candyballs!
Paypig Alert! Back to do more financial damage was iPay, after recent extreme sessions. This time he spent $406. We know that he will be back again after licking his wounds a bit
Getting his first mention was longtime client, I'm calling stiffy al, mostly due to a very nice custom audio I made him. He spent $205.
New Slave and Huge Paypig Alert! A new slave I am calling cosmo has been finding out about the joys of click and pay for Lauren! In just about 3 days, he spent $850. I see a profitable fun time in store for Me with cosmo, I can't wait to talk with him on the phone!
My good girl janice went crazy on a pay to view series and spent $278, missing a Huge mention by a mere $22.
I can't wait to see who is on the next report. Who will get huge mentions, and which new slave will fall for Me!
You can have your name here. Just do it!