Are you part of My tribe yet? All part of My cult plan
Join Lauren's Tribe!
I'm so excited to form a special tribe with My closest slaves, the "in group", My go-to tribe fam who will be sacrificing the most because they know better than anyone I deserve all things good!
You may be wondering how this fits into My LR Ultra plan to brainwash My slaves?
Its purpose is to give you a sense of belonging that helps Me indoctrinate you more. If you belong, you want to fit in.
What better place to be than with Me? Being groomed and molded into a perfect paywarrior with a purpose! Surrendering everything to Me!

I'll still take from those not in My tribe. I'll still fuck them over, but they won't be getting special tribe attention.
They won't be getting My emails or My newsletters or My special surprises that make beta life worth living!
Only MY tribe members will be part of My special focus.
See the membership rolls. It's simple, but your name could be there too!

Listen to My recruiting Video!
Not everyone will qualify, this is an exclusive club!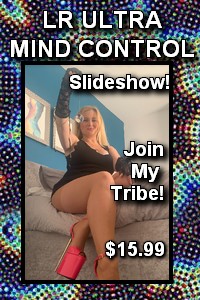 Want to be part of that tribe?
Here are the rules!
See My other ptvs in the LR ULTRA Series! (In case you were one of the few that missed them)
And don't worry. I am NOT done with more items that will make you crave being part of My tribe. We both know you deserve to be fucked over by Me on a regular basis!
Now it's time for the Fuckover Report!
Legendary Paypig Alert and Inaugural Tribe member Dr X showed why he is legendary by spending $3135 on Niteflirt and $589 on Amazon for a total of $3724. That is soooo hot!
Extreme Paypig Alert! My tribe member boomer showed why he is a tribe favorite by spending $1322. He won't ever leave, but he'll keep trying. Maybe.
Extreme Paypig Alert! My very good girl and Tribe member buffy and she spent $1157 having paysex and become mesmerized by her Queen!
My good boy quiet gentleman spent $121 in a hypnodaze!
Huge Paypig Alert! My good slut and Tribe member hosiery slut spent $756! nice!
sniffer stopped by long enough to spend $100 on a hot phone call session.
Paypig Alert! j the junkie fell deep into belonging to My tribe, surrendering in a flurry of lust to My exploitations. He spent $430
My special good boy tom came to see Dr Lauren for $103 as well
Tribe member helpless dennis spent $278 since the last post, always trying his best to please!
New Client: A guy I'm calling "le moins" (Maybe I should just call him lemon, and skip the French, hmmm?) spent $245 finding out how dangerous I am!
My nf client managed a mention at $118
Paypig Alert! Tribe Member steve q fucked spent $312. I'm expecting more because I have GOALZ for this pig!
Tribe member pigbait spent $120 since the last post. I bet he can do better for next time
New Client: Another new guy I'm calling "windy" spent $101 finding out about Me in a phone call. I hope for more good things to come
Tribe member and good boy assbitch worshiped My ass and spent $189
Huge Paypig Alert! Tribe member PIG got so excited by new photos that he spent $525 edging to them! Pig is one of the 100K members.
Tribe Member dirtbag spent $159 and was thrilled to get added to the membership rolls!
Paypig Alert and New Slave "nail drone" lost control and spent $380 sending tribute after tribute! Nice!
Good boy shiny iz was back and spent $109 on shiny pretty photos!
Paypig Alert! good boy goat was back and he spent $315 Nice!
My slave mind-controlled john spent $206 and I want to report he's passed the 9K level of spending. Next stop 10k!
My sweet helpless dave spent $128
Paypig Alert! Back and spending again was fresh meat, this time he got a red-letter mention for spending $316
Tribe member and good boy scout spent $256 spoiling Me. Nice!
Good caged sissy caged forever spent $118 and I enjoyed our time together!
Tribe member and good girl sissy j spent $275 while we had some exposure fun!
And taxpayer showed up to pay Me $187 in overdue taxes. Hey taxpayer, you still OWE!
Spending enough to get a mention was footdazed, spending $159