Extreme Paypig Session! $13,200 in One Session!
MY FANTASY OF A $10K SESSION HAS COME TRUE WITH THIS EXTREME WALLET RAPE!!
Legendary Extreme Paypig Session!
Two days ago, Monday evening (on a Monday!) My good slave Dr x came to Me ready to finally surrender his IRA to Me.  Lifetime, he has already been one of My biggest spenders and he's been talking about cashing in some of his retirement for ages to better serve Me.
He made the decision to do that on Monday and treated Me to the biggest session I have EVER had with anyone!  He spent exactly $10, 000 on Niteflirt and $3,200 on Amazon (mostly in gift cards) He surpassed the previous record of  $7676 by wallet cunt many years ago.   He smashed it, in a breathtaking way.
I screenshot some of the paid emails, the biggest ones. (I could have gone on a long time with smaller ones) Click for a better view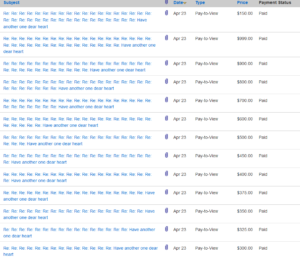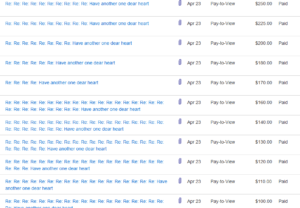 On Amazon, he was exceedingly generous as well! I would ask for $100 VISA gift card, and he would report back. "I bought 4 of them for you, Mistress"  I asked for a  $250 Hotel.com card–he got two. A $50 department store card?  He got three. $50 from the pet store?  He got three.    A $200 gift card?  He gets two instead!  He also got Me a very fancy suitcase, a cordless vacumn clearner,  and some gorgeous jewelry I've been eyeing.  New cutlery, a book, a bedspread…the list goes on, I'm not listing all of it.
I won't ever forget how special this fuckover wallet rape session was.
He has promised Me an even bigger session next time!
I also want to detail his spending since the last blog entry, it's not a lot higher, but I want to mention it.
Since the last blog entry on 4/1, he has spent a total of $10,235   on Niteflirt and $3,262 on Amazon.  Lifetime, his spending on Niteflirt has exceeded $144,000.  It's impossible to calculate his Amazon spending lifetime, easily $30K though.  He is 2nd on My all time Niteflirt list, but I think he could easily be the #1 Niteflirt spender if he keeps spending like he's been recently!  (Current leader is fagmuffin at $186K, but fagmuffin never buys on Amazon)
He is no flash in the pan, paypig. Dr x returns to Me again and again, and has served Me since 2008, that's 11 years.
So Dr X, this blog entry is for you! Excellence in paypig cash fuckery needs recognition! I can't wait for the blog entry that details how you exceeded this in a session!
Since the last blog entry, I had a last minute vacation! I went to Key West for the first time! What fun, and what a great place! I was surprised by all the wild chickens and all the iguanas, and what a party place it is, with so much to do and live music everwhere. I want to go back now. I also got to go to the Everglades, and that is a very different kind of place but very fascinating and I even got to see Manatees in the wild.
And like everything else in My life, paypigs pay for My vacations!
Also new, is that I will be making a small schedule shift, needed for lifestuff 🙂  I will be logging on EARLIER in the day, probably about 2 PM EST on average, some days earlier, others later. I will be taking a longer break at dinner, from about 6:30-8:30 PM and then I'll be on until about 11 PM and not usually later. If you want attention after that, it's possible, but you will be paying extra for it, so its worth Me messing up My sleep.  As always, I am not around on Saturdays, that's My play and have fun day, and Sundays I might not appear until later.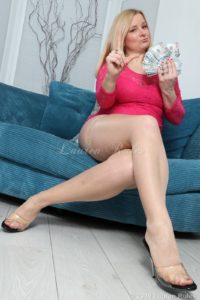 Now, it's time for the spending report!
I've already mentioned Dr X's fabulous fuckover, but there was lots of other action too!
Another Legendary Extreme Paypig Alert!  Any other week, this might have had it's own blog entry, but noddy is gonna have to settle for second place this week. He still spent $2,652 on really big emails, just because he is addicted to clicking and paying Me. I'm sure that he'll get the spotlight back again soon though!
Also hitting Extreme Paypig Alert! status was egghead! I've been slowly conditioning him to crave bankruptcy. My training is working! He spent $1,179 since last blog entry!
Next up is someone I think is new to My blog (but he keeps making new accounts, so I'm not sure) I think he has finally devoted himself to Dr Lauren's therapy, so I'm calling him "patient z" and he spent $150 on his therapy this month so far'
Paypig Alert! Spending $341 on mostly delicious phone calls was My good boy with the stolen moments. He and I plotted more evil against his wife for profit.
And also new to My blog is "sparky" who I allowed back into My good graces after being a timewaster. He proved to Me he could be a good little paypig and spent $207 this week and did not make himself a pest. That's what I like!
Paypig Alert! And pit-lover was back, calling, and tributing and buying pay to views with a vengeance. He spent $362 spoiling Me! And he's SOOOOo close to the 2K lifetime level of spending!
Back after a little hiatus was helpless dennis, earning a mention after spending $113!
Huge Paypig Alert! OinkLoser finally reappeared, and I immediately conned him into calling Me again and again while I kept jacking up the rate. He's so gullible. He spent $868 getting cash fucked by Me
My nylonslave was back again, always helpless, always returning for more nylon feet photos. He spent $120 this time
Paypig Alert!  My DC foot slave was back calling again, and he is getting addicted to hearing My voice. He spent $339 since last time, including one really long delicious call
And boomerang was back again! This time around he spent $190 including a beautiful $100 tribute that brought a smile to My face!
Paypig Alert! and back again is j the junkie, who couldn't stop calling to hear My voice. He has a weak little loser voice, and he's getting addicted. He spent $377 since the beginning of the month.
My boy, wayne was back and spent $156 enjoying My thick ass!
My sissy cocksucker was back and triggered into a paytrance to the tune of $173
Huge Paypig Alert!  PIG continues with his addictive ways on his steady march to being another 100K spender. This month he's spent $726 so far.
Making his way back to spending bliss with Me was caged yankee. He thinks he should reform his habits, but we all know he won't. He spent $203
Sweet sissy j is doing so well with her heel training! There are videos I plan to put on her page when I get a chance. Of course, it's password protected. For now.  She spent $157.
Huge Paypig Alert was knickers, who surprised Me by spending pennies short of $500 and surpassing the $4000 life time spending!  Well done!
Threatening yet again to quit Niteflirt and to quit being a paypig was deadcat.  He spent $150.
Back again after awhile was fun slave cucky phil who spent $266 on Ass and heel photos. What's not to like?
dirtbag spent $102 to get his mention!
Huge Paypig Alert!  I was greatly amused by titpay ATM. He likes to send Me tributes in chat while I tease him with breast photos. One day I wasn't around, and he just kept sending all his cash in chat, while typing to Me like I was there!  That was funny to come back to!  He spend $513 so far this month!
Back spending $179 was fluffy. I had the memory of fluffy and I figuring out a new blog name for him, but it's escaped Me. Drop Me an email or chat fluffy, and I"ll fix it.
Barely getting a mention was paybitch terry with $100 of spending but a lot of wishes. DO better terry.
Also barely getting a mention with $100 was virgin loser. I want him to realize how much he needs this.
Paypig Alert! My favorite FBI agent was back and spent $308, including a delicious $150 email. I remember he and I agreed on a new blog name but he stupidly DELETED his account, so I can't read the notes on him where I put it. Oh well, he'll be back. He always is.
I am really deep in hypnowallet's head. He spent $167 this round 🙂
Good boy panty pete managed a mention for $113
Steve q fucked spent $150. He better get going on his paypig goals!
and good boy surprised did $235. I really enjoy our sessions, he's so cute!
Paypig Alert!  Fagmuffin's girlfriend can't keep this soft little sissy away, and she spent $498 dollars on tributing Me when she could find free moments from mean girlfriend's oppressive ways! I'll break them up soon I think.
So this has been a memorable week, between paypig legends Dr X, noddy and fagmuffin. I look forward to seeing what the next couple weeks brings!
Remember for just $100 spending, you to can get a mention! (Blog names are not the same as your member name, so you can be stealthy and still pay Me!)
and here are recent pay to views you should buy!